Join the team!
We've been on our journey for over 20 years - it started with the world's first plug-and-play eye tracker. Today, we're changing the world with a new era of technology that understands attention and intent; what we call attention computing.

You'll find our tech in all kinds of devices including computers, cars, and VR headsets — but we also make purpose-built eye tracking devices that help solve crucial questions for researchers across the world.

We're on a mission to improve the world by supporting disease diagnosis, lowering power consumption, reducing road traffic accidents, uncovering the secrets of learning, and much more!

We strive toward a workplace where everyone can be themselves, contribute to societal good, and look forward to coming to work.
The Tobii way told by Tobiians
The Recruitment Process
Found a position that matches your skillset? Go ahead and send in your application!

TIP! Do you already know a Tobiian? Ask them to make a referral before you send in your application, and you will stand out from the crowd.

One of our recruiters will reach out and schedule a first phone call. We will ask questions about your skillset and how you want to grow in your career.


TIP! Look into Tobiis values and different products to get an idea of the organization and our offering.

Interviews with the hiring manager and/or team member are structured interviews focusing on your experience and skills. You will also learn more about the organization, the team and the role.


TIP! Remember to ask questions! These interviews are for you to get to know us as well.

Interview with the hiring manager and HR. Before this interview, you will be asked to complete two assessments, an abstract reasoning test and a personality test. During this interview, we look at your results and ask for examples of how you have acted/behaved in previous situations.

Before you get an offer, we always ask for two references and do a background check. You will be notified and asked for the contact information of two references.

TIP! Giving references can be tricky. Remember to give a reference you worked with recently to stay relevant.

The hiring Manager calls you to give the offer verbally and discuss the technicalities like stating date, compensation and benefits and, if relevant, relocation packages.

The recruitment process varies depending on the complexity of the role. Interview steps might be added or changed.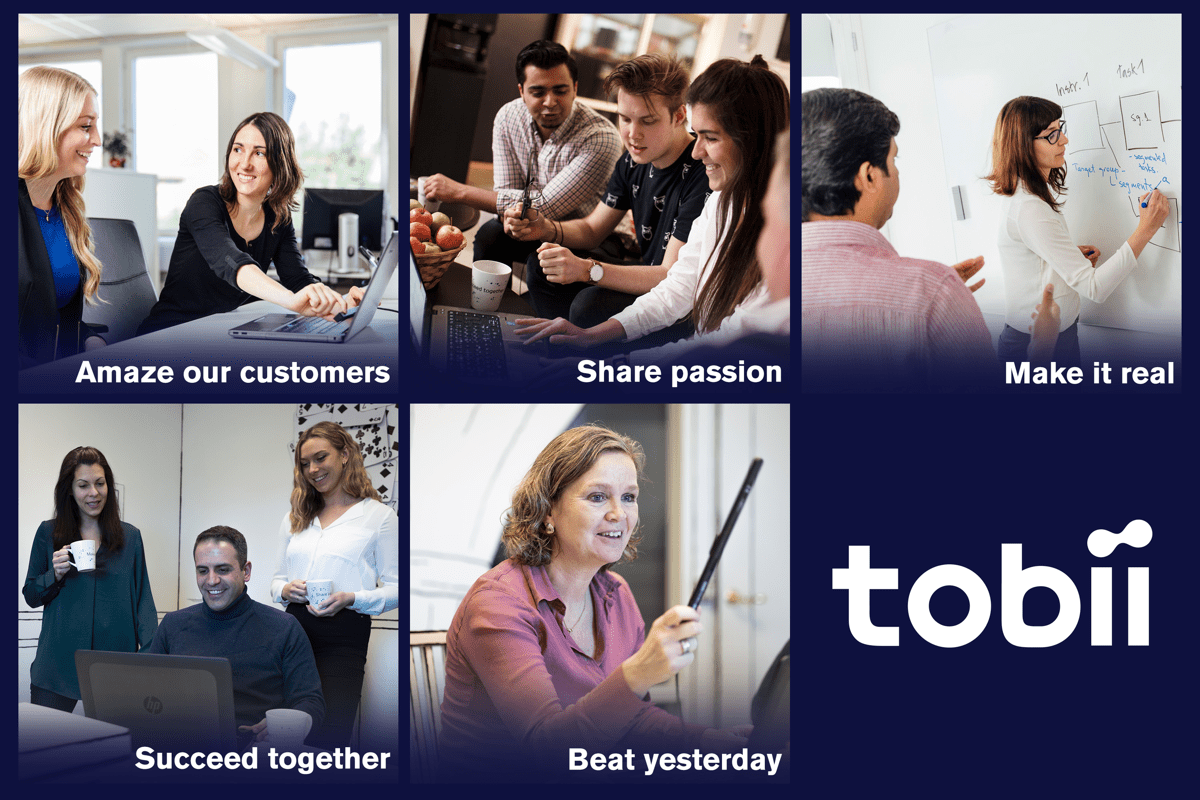 Our Values
Passionate Tobiians around the globe share the ambition to amaze our customers. We take initiative to beat yesterday and keep on growing as a team. We make decisions with conviction and have the stamina to go all the way. Together, we're unstoppable! hemselves, contribute to societal good, and look forward to coming to work.
The Tobii way
Tobii is an international company that nurtures a welcoming, friendly, and non-hierarchical environment. Across our offices in Europe, North America and Asia, we have a culture where we can be ourselves, talk to anyone, share thoughts, and discuss new ideas. We also make sure to look out for each other on a personal level, and Tobii makes sure to do the same; offering an attractive work-life balance and great benefits. We think this fosters innovative ideas, a creative workplace and – equally important – a fun place to be!
Embracing differences make us better
Tobii x Women in Tech 2023

We have been proud partners of Women in Tech Sweden for a few years now! WIT is a non-profit organization empowering woman in tech since 2014, with 18k members, and supported by more than 20 high-profile companies.

Diversity matters at Tobii

We are passionate about creating an inclusive and welcoming environment that embraces diversity. Together, we encourage and cultivate the unique voice of each Tobiian.

Green listed in Allbright report

Allbright is a Swedish foundation that evaluates public companies in Sweden according to the career opportunities they provide for women and minorities. In their 2022 report, Tobii came in #22 on Allbright's green list for gender equality.
About Tobii
Founded in 2001 and headquartered in Stockholm, Tobii is a Swedish tech company listed on the Nasdaq Stockholm (TOBII) since 2015. Tobii is the world leader in eye tracking, employing about 600 people with a vision of a world where all technology works in harmony with natural human behavior.
Already working at Tobii?
Let's recruit together and find your next colleague.